Welcome to the
SAFC SA Coxhoe Branch

Website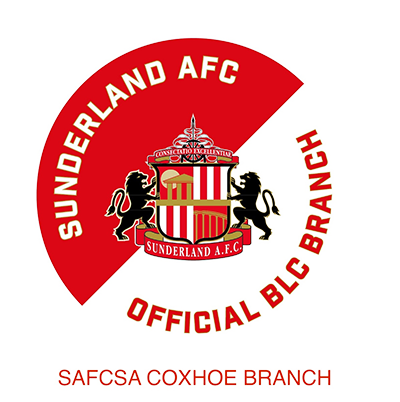 Coxohoe
Branch Sponsorship
With 3 levels of branch sponsorship, all levels come with business promotion opportunities over several digital platforms including website, facebook and twitter.
For a chance to see League and Cup games at the Stadium of Light become a member of the branch and travel in comfort on our coach and leave the car at home.
Coxhoe
Branch Match Travel
SAFC SA Coxhoe Branch travel to all league games Home and Away in League One.  We also provide transport to cup games if there is sufficient demand.
Coxhoe
Branch Flag

History
Our branch logo, designed by Ellie Dixon (after winning a competition ran by the local Coxhoe primary school) depicts two emblems of SAFC – the Sunderland AFC Crest and the Black Cat.
Follow us on Social Media
Why not keep up to date with the very latest news from the SAFC SA Coxhoe Branch by following us over on Twitter and Facebook